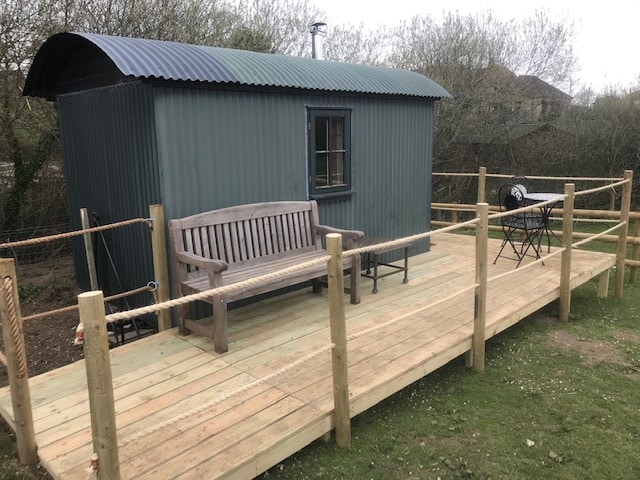 Spend time relaxing in the scenic surroundings of the hut beside the millpond.
The lake is stocked with fish so will appeal to anglers.   The fish are in good condition as they are rarely fished for.
The hut is well appointed with a 6'6″ long and 4'6″ wide bed and mattress, small wood burning stove and other comforts.
The luxury utility room (electric sockets, kettle etc) with adjacent power shower (unlimited hot water!), basin, fully flushing toilet are in the stable block a very short walk away.
The hut itself has no plumbing or electricity – so it's a real back to nature experience.
Red squirrels are abundant on the farm and we hope you see them during your stay.
Guests are welcome to sit on the balcony at the Barn where there is free wifi. Or indoors government restrictions permitting.
Breakfast can be taken in the farmhouse by prior arrangement if desired (subject to availability).
Terms & Conditions
Policy
Check in Between 16:00 and 22:00 – Check out by 11:00. 2. Pets are not allowed. 3. Smoking is allowed in some of the open air areas. 4. Parking for all guests is available on site and is free of charge.
Payment Conditions
A deposit equal to the first night of the stay is required. The deposit will be refunded according to the cancellation conditions. Full booking balance must be paid 1 day before arrival. Payments by cash, cheque, bacs, and the following cards: Visa, Mastercard.
Cancellation Conditions
If a booking is cancelled less than 1 day before arrival then a charge equal to the full booking amount will be made.
If the booking is cancelled 1 or more days before arrival then a charge equal to the first night of the stay will be made.
In the event of a no show or booking reduction (after arrival date) the full cost of the booking is charged.
For retreat Terms & Conditions please see each teacher's own website. 
Please note: We are not a tour operator; each booking you make is an individual purchase available separately at the same price and is not part of a package holiday.