WightGrownWool
Having previously written about how I came to be on a farm in the Isle of Wight, the arrival of my first Castlemilks, llamas, alpacas and Borerays and my learning curve weaving, I am now embarking on practising the processing of sheep from raw fleece to finished articles.
I am learning new skills along the way and also continuing to weave and knit hopefully with increasingly better results.
I have tried sheep shearing but I'm planning to leave that to the experts.
Producing the best wool I can from my much loved flocks starts with looking after the animals.  They all have shelter for rough weather and they certainly take advantage of it.  The cleaner and drier the fleeces are with the minimum vegetable matter in, the finer the fleece will be when it comes off.  I also provide mineral licks, hay and feed a small amount of concentrate every day.
Daily feeding serves several purposes – giving them extra nutrition, casting my eye over them to see all appears well and keeping them in a routine so that I can catch them when necessary!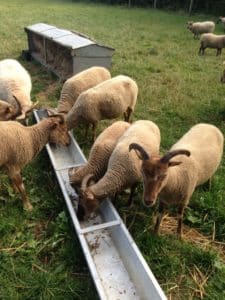 some of our flock
As many of you will know, there are several stages of preparing wool from a raw fleece into a material that can be used for crafting, garments or household textiles.
These processes can be carried out by one of the commercial mills – I think there are about half a dozen in the UK and they are all slightly different.
Stages of fleece processing at home:
The fleece first needs to have any obvious faecal or vegetable matter taken out;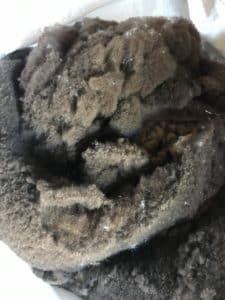 raw Castlemilk fleece
scouring – either by hand washing or the 'fermented suint' method which just involves leaving the fleece in a bath of water – I haven't tried this but I've read that it's very smelly. As always further information can be found on the internet.  Care must be taken as heat and agitation will cause the fibres to felt together:
picked over in a picker which is a drum with large spikes which separates the fleece making it more open;
carded either with hand carders or a carding machine;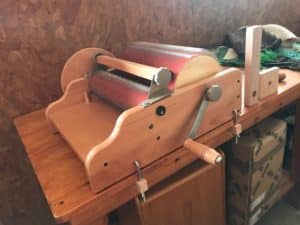 carding machine
roving the carded fibres into thin sausages depending on the thickness of the yarn you wish to produce –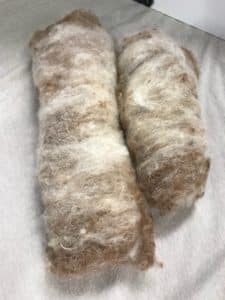 blended Boreray and Castlemilk roving
hand spinning, which I have embarked on and am very far from proficient in, as you can see from the photo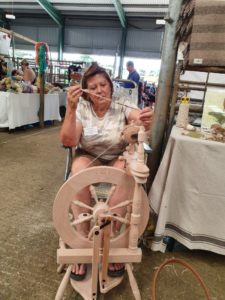 Me learning to spin at Woolfest
I do not aspire to spin and sell yarn as it's time consuming & I don't foresee being able to do this to a high enough standard, I therefore plan to just spin for my own interest and use. Roving has no twist and is held together by lanolin and the scales on the wool fibres, spinning twists the fibres into yarn;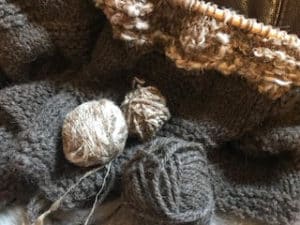 Castlemilk/Boreray blend handspun & knitted by me with chunky Castlemilk/alpaca blemd
plying 2 spun yarns by twisting in the opposite direction to that in which thy were spun binds them together to produce a plied yarn;
finishing can be done in many ways e.g. washing which sets the twist allowing the fibres to open, fluff out and make a loftier yarn or on the final product as in fulling cloth, (this used to be done under running water in fulling mills and can now de done with teasels (apparently!) or a brush or on industrial machines), felting with soap & water or needles, washing and blocking woven, crocheted or knitted articles;
dyeing of the wet fleece or yarn can be carried out if wished.
pure Castlemilk DK overdyed purple
At every stage of the process the wool will become lighter as lanolin, dirt, coarse hairs etc are removed.  There are useful products which can be sold in various stages of the production.  The more processed the fleece is the higher the value added.
My Etsy shop WightGrownWool lists raw fleeces (for a few weeks around shearing time), sheepskins, scoured wool which buyers can card themselves, carded wool for hand spinning or crafts, knitting wool and weaving yarn which have both been produced by the Natural Fibre Company, blankets woven by Curlew Weavers and the occasional article made by me.
https://www.etsy.com/uk/shop/WightGrownWool
Wool is a really excellent natural, renewable, biodegradable product and is really fun and interesting to experiment with.
Kathy Domaille
Godshill Park Farm House
Isle of Wight
PO38 3JF
01983 840781
Fb Godshill Park Farm and Wightgrownwool